Farm Animal Nursery Art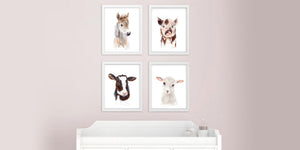 I don't know why I avoided this genre for so long, but I finally got on the Farm Animal band wagon. Truth is, I love horses. For as long as I can remember, I drew horses. It was probably the first animal I ever did draw, and then of course, it migrated into unicorns.
Suffice it to say, the horse in this collection is my favorite, followed by the cow, piglet and sheep. I love how these four work together as a print set. It makes perfect Farm animal nursery decor, but also is wonderful as farmhouse decor for anyone who loves farm animals. 
Purchase Farm Animal Nursery Art
Save