Animal Nursery Art - Why It's a Good Choice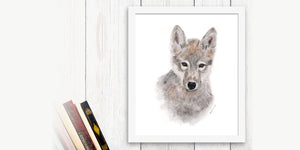 When I was pregnant with my son, I knew that the theme for the nursery would be animals. The animal nursery art I created, however, was just the beginning. His room is now filled with books, stuffed animals, and clothing with animals. Although this may seem overboard, at the age of two much of it is his by his own selection. My son requests books with animals as the main subject at reading time; he totes around his stuffed animals - lions, tigers and bears - as much as he can. And he lights up when he gets to see some of the animals he learns about in person (at the museum, wildlife refuges, and zoos). Clearly the theme resonated.

Animal nursery art and decor lends such a tender vibe to any nursery or child's room, and that is probably one of the reasons it has become so popular. It is hard to deny how sweet baby animals look, and how beautiful, and majestic adult animals are, but there may be more reason to consider an animal nursery art motif for your little one's space for other reasons, as well.
Teaching Tool: With each day that your child sees the animal nursery art you've hung on his or her walls, they will become more and more familiar with the animals. It will spark conversations. They will ask about them. You can talk about the sounds they make, the habitats in which they live, and the food they eat. They will learn through their general curiosity.
Instills Awareness: So many beautiful species are becoming endangered, or worse, are on the brink of extinction. Teaching your children from a very young age about various wildlife species can help them become aware of the importance of biodiversity and wildlife conservation. Some of my customers have specifically geared their animal nursery art towards endangered species for this very reason. If you are interested in learning more about these species, check out The Center for Biological Diversity, The World Wildlife Fund and The African Wildlife Foundation among others.
Share the Love and Tweet This: "Teaching your child about wildlife conservation can happen earlier than you think." http://ctt.ec/tb50y+ @brettblumenthal
Studies show that having pets within a household can provide children with wonderful opportunities for emotional and cognitive development. Although decor might not provide the same experience, stuffed animals and art might be the next best thing. Whether you choose a specific animal or a broader theme, such as woodland nursery art or safari nursery decor, you can help your child to learn, grow and connect with the beauty of the animal kingdom.
Interested in making animal nursery art a major part of your little one's decor? What makes this theme resonate with you? Share in the comments below!
Save
Save