Watercolor Holiday Cards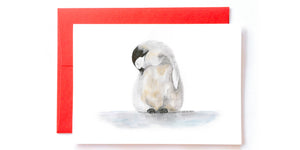 As we approach the holiday season, I've decided to offer some of my prints as holiday cards.
Thanksgiving: Thanksgiving is first in line with my baby squirrel sleeping in a nest of fall foliage. The colors are so vibrant. And, the card comes with a nice, simple sentiment: "So Thankful..." I'm assuming my little squirrel has foraged his nuts and is sleeping soundly and as a result, is thankful for the peace of mind.
Christmas, New Year's and Hanukkah: For Christmas, New Year's and Hanukkah, I'm featuring my Polar Animal collection - Penguins and Polar Bears. A portion of the proceeds for my Polar Bear Cards (and artwork, too), goes towards Wildlife conservation. You can choose between blank fronts for non-denominational, or if you would like to have a greeting on the front, that is another option. All of my greeting cards are A7 (5x7) printed on 100% post-consumer recycled art paper. For my Thanksgiving cards, you have a choice of Red or White envelopes and for New Year's, Christmas and Hanukkah, you have the choice of White, Red or Silver matching envelopes.
I'm also working on a few other ideas for the December Holiday season, so keep a lookout. But here's a hint: No animals, all festivity!
Save